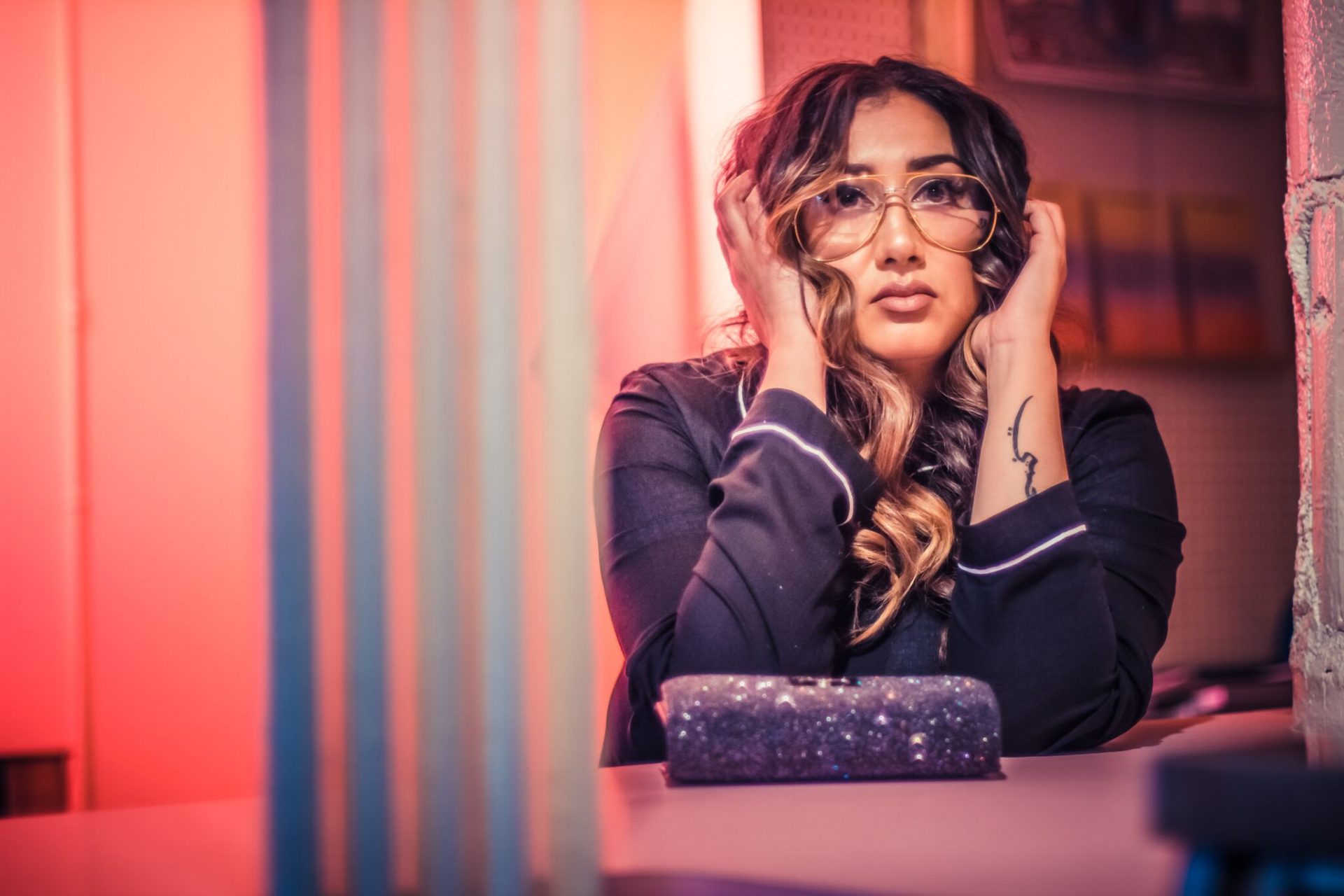 Founder & Creative Director
An often told story throughout Maliha's life has been shared by a close family friend…From the ripe age of 4, while visiting this friend, Maliha would wander over to the vanity and ask her , "Aunty, may I use your nail polish?" Using those polishes while hiding under the dining room table, or standing on her toes, in front of her mother's mirror, carefully gliding red lipstick across her lips, or selling her necklaces to her dearest friends Minnie and Barbie, a love for fashion was cultivated.
Throughout high school and into her early years of college, Maliha doodled in her notebooks and sketchpads designs to take with her on her trips to India. While there she worked with local tailors to bring those designs to life. Pursuing a double major of Psychology and Business Administration with a concentration in Marketing, Maliha attempted to merge her budding love for psychology and business with her childhood love story. Through the years though, she found that she still hadn't discovered exactly how to bring her passions to fruition, until an established fashion blogger hinted that blogging might be the answer she was looking for.
Wondering if this truly might be the outlet she needed for her obsession with all things beauty and fashion, she started out slowly converting her Instagram and Tumblr into a platform for herself. In time, fashion editors, photographers, as well as other bloggers started to respond to her images and she was often the one her friends turned to for outfit advice. Finally feeling that this was worth going all in for, Maliha and her cousin sat down one night and launched The Hare & Style Blog.
What has developed since then is an online magazine rich with diverse content, touching on womenswear, menswear, beauty, music, and a unique array of editorials. With a team of editors, a personal stylist, and guest writers The Hare & Style is always evolving, striving to bring the highest quality content for it's readers.
Maliha is a Vogue Insider, Vogue VIP, as well as a registered Independent Fashion Blogger.
For business inquiries, please contact by email at malihamohiuddin@gmail.com
 Menswear 
Style and aesthetics are two words that come to mind when we think about the extensive world of fashion. What makes a person stand out in the crowd is their practical application. That is what I strive to achieve on a regular basis.
Hi, I'm Saif Osman!  As an IT student working in a regional supervisor capacity for Zara; a very successful retail chain from the Spanish giant: Inditex, I've learned to work my outfit to compliment my schedule.
At work, my business casual (or on occasion, formal) needs to be sharp,  presentable and comfortable. During all other times, a casual look needs to stay classy (just in case I run into that special someone during my next grocery run, I don't want to be sporting a rough look,  ya know?) 😉
As difficult as those two basic tasks are portrayed by most fashion mags, I promise you they are that much easier! Everywhere I go, I strive to eliminate that stigma from the minds of those who are still stuck in their blue shirt and khaki formal wear dress code. Too afraid to try something new, something different, something stylish, something fresh. Join us on The Hare And Style Blog as we take you through this transformation, in baby steps, if you please.
Yours,
Saif
Administration & Menswear Fashion Editor
Beauty
"Beauty begins the moment you decide to be yourself." – Coco Chanel
Beauty is something that radiates from the inside, from your heart, mind and soul. I firmly believe the old adage that a smile is the prettiest thing you can wear. Ever since I was a young girl, my mother (who by the way is my role model) always told me that true beauty is in the heart and in the mind, not something you put on your face or clothes you wear and I wholeheartedly believe that.
As far back as I can remember I have loved shoes, nail polish and makeup. It was not anything anyone taught me, but I just knew I loved it; there was no two ways about it. I have never been formally trained in make-up, just my passion for it and years of trial and error to perfect my own beauty regime have brought me to this blog. Aside from my family, which is number one, makeup is my passion and my release.
Through tutorials, beauty editorials, and occasional outfit inspirations I hope to share this passion with you and hopefully inspire you along the way.
Makeup should never conceal who you are, it should only enhance what you naturally possess. Let that light radiate and maybe we can give a little credit to your bronzer.
I am also the mother of one gorgeous baby boy who truly is my everything and wife to an amazing husband who is my rock. Just as my mother taught me when I was young, to truly be beautiful, you have to shine from within, that comes with following your dreams and believing in yourself and your self-worth. I want my son to always know that, just like I want you to believe it to your core. I hope to inspire, to teach, to learn and grow with you.
Love always, forever and a day,
XOXO
Souher
Beauty Editor & Contributor
Menswear Personal Stylist
Dressing comfortably doesn't mean you can't dress stylishly. My name is Mir Hussaini, and I'm here as The Hare and Style's Personal Stylist. Born and raised in India until my family moved to Chicago ten years ago I have been busy building my life here.  I'm now an undergraduate working on a pre-med psychology degree. In the meantime, I work at ZARA and continue to discover my own personal style. I love doing something unexpected while still sticking to classic cuts and colors. Follow my posts and feel free to reach out via our team email for any style advice or personal consulting.
Mir
Personal Stylist & Consultant
© The Hare & Style, LLC 2017